RAID: Shadow Legends has a wide cast of characters, some of these inspired by figures from myth, legend, and popular culture. One of the grandest characters in this dark fantasy collection RPG is the Champion – Sun Wukong.
The mighty Monkey King Sun Wukong was once an arrogant monk charged with protecting an ancient relic housed in the Gadiato temple – until he took it upon himself to shoot a stray firemonkey. Revealed to be a shapeshifting Fae, the trickster spirit attached itself to Wukong's soul, transforming him into a simian Skinwalker and binding him to the temple with a curse so he could never leave.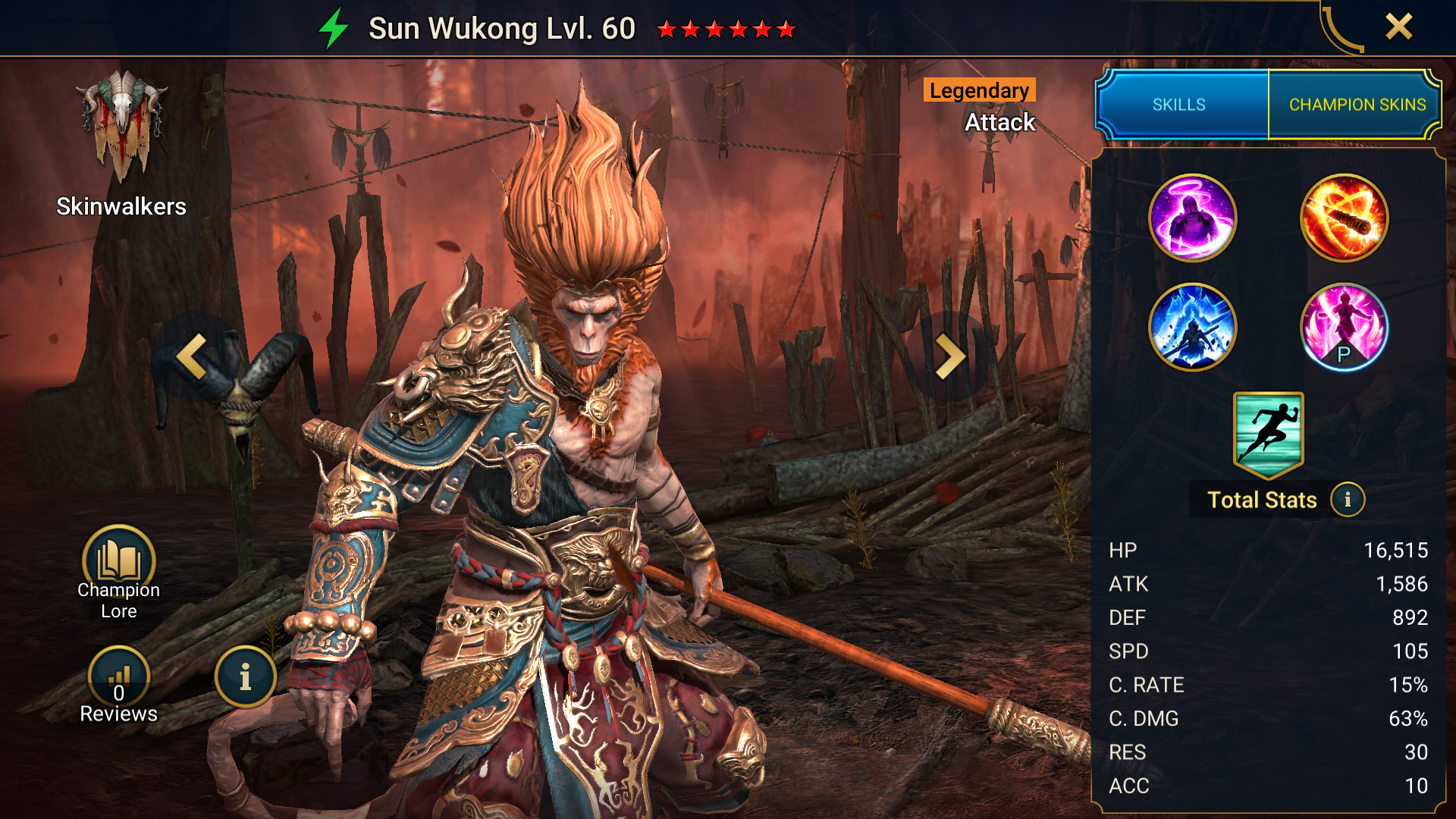 Some time later, Wukong was visited by a mysterious pilgrim – the Arbiter seeking to return the Gadiato's relic to its rightful owners. The Arbiter proposed he join her on a journey of penitence, and reluctantly Wukong agreed to accompany her as her bodyguard.
Over the course of the journey, his nature softened with humility and grace. When the Arbiter finally revealed that the journey had been a test and his curse could have been lifted any time, Wukong instead praised her works and rejected his old, prideful ways, thus breaking the curse himself. Filled with a new drive (and just as much of the mischievous spirit that so entertained the Arbiter on their travels), Wukong resolved to return to the Gadiato to spread his newfound teachings to the world.
Add him to your RAID: Shadow Legends roster for some destructive monkey business!
WHY PLAY SUN WUKONG IN RAID: SHADOW LEGENDS?
Sun Wukong is an excellent Arena Champion, with his buff stealing and blocking a real boon against buff-heavy opponents. His second skill also allows him to ignore defense and thus deal a whole lot of damage – and he's the only Champion in the game who can place Sheep debuffs with a skill.
HOW TO GET SUN WUKONG IN RAID: SHADOW LEGENDS?
He is available for free during the Sun Wukong Chase. Just open the game on 7 days between August 22nd to October 31st 2023 to add him to your roster! After this event, the Monkey King can be summoned via Ancient or Sacred Shards.
WHAT ARE SUN WUKONG'S SKILLS?
Sun Wukong's skills are a potent combination of stealing and blocking buffs as well as bypassing defense to deal some heavy damage – check out the full details below.
Gotcha! – Attacks 1 enemy. Has a 25% chance of placing a Stun debuff for 1 turn. The chance increases to 50% if the target has any buffs.
Staff of Wonder – Attacks 1 enemy. Will ignore 50% of the target's DEF.
Will attack all remaining enemies with any surplus damage if the target is killed. This attack will also ignore 50% of the target's DEF. This attack cannot be critical.
If the initial target survives, it places a Sheep debuff on them for 1 turn. This debuff cannot be blocked.
Now You See Us – Attacks all enemies. Before attacking, steals all buffs from all enemies and then places a Block Buffs debuff on them for 2 turns.
Unbeatable Wukong (Passive) – Revives this Champion with 100% HP and 100% Turn Meter 3 turns after they are killed.
Sun Wukong also has an Aura that increases the SPD of all allies in Arena battles by 28%.
SUN WUKONG RECOMMENDATIONS
There are three key areas to pay attention to when playing any Champion: Masteries, Gear, and Blessings. To make sure your Monkey King is as mighty as he can be, take note of our recommendations below.
MASTERIES
Like most Attack-type Champions, Sun Wukong will benefit from building down the left-hand side of the Offense Mastery Tree combined with the right-hand side of the Support Mastery Tree. As he shines best in Arena, make sure to grab the Helmsmasher Tier 6 Mastery to help ignore additional DEF for more damage. The right-hand side of the Support Tree is great for Accuracy and Speed, helping Sun Wukong get his turn more often and land debuffs.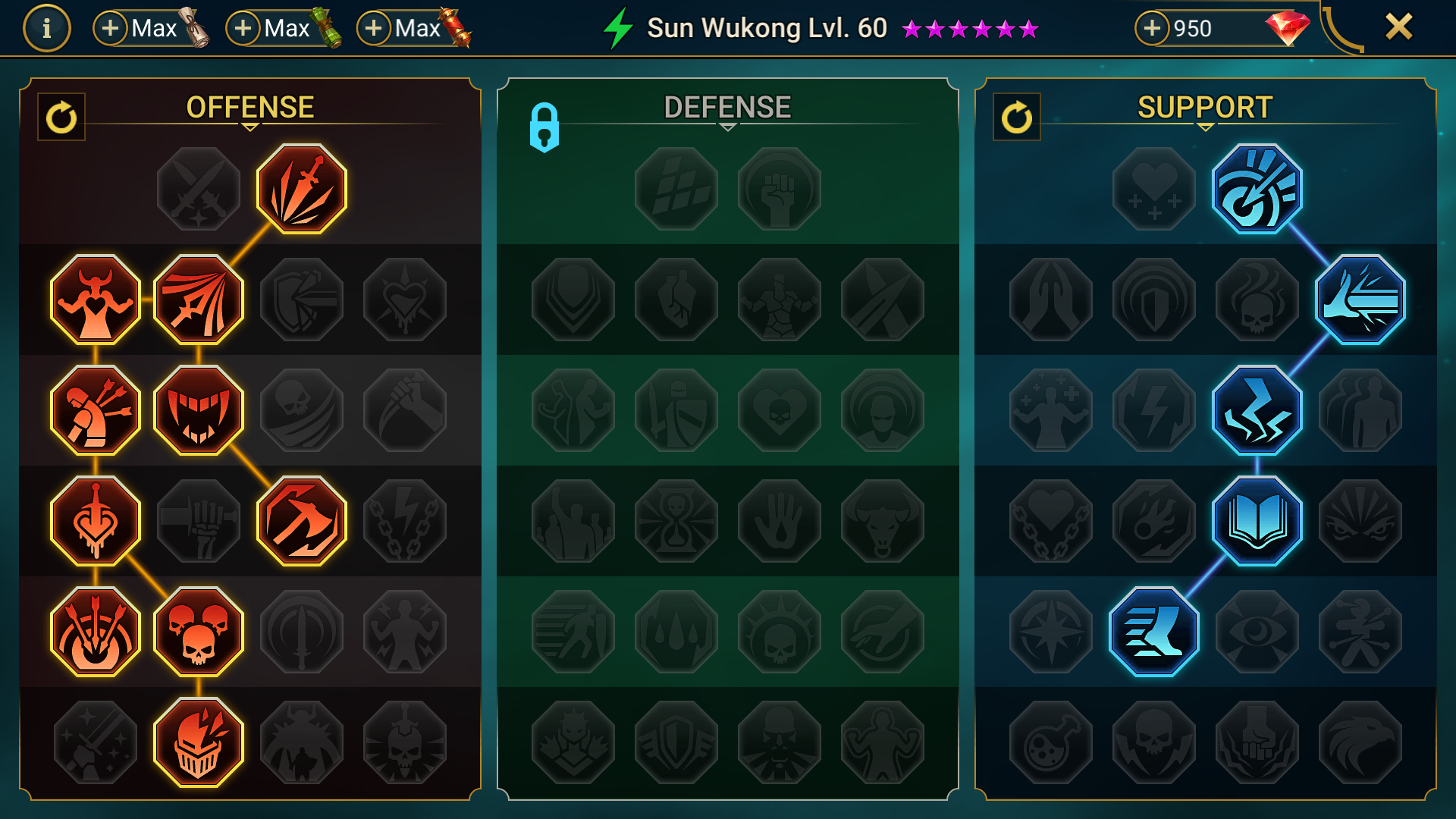 GEAR
Given his propensity for the Arena and all the debuffs in Sun Wukong's kit, gear-wise it makes sense to focus on things like Accuracy, Crit Damage, Attack, and getting at least 100% Crit Rate. The best Artifact Sets for the Monkey King include Savage for additional Ignore DEF, Perception for a great combination of Speed and Accuracy, and Crit Damage to help boost damage across the board.
BLESSINGS
There are three main options for your consideration when it comes to Blessings: Heavencast is good for ignoring RES on the Default Skill's Stun debuff, Intimidating Presence is great if you're intending to run Sun Wukong as a Speed Lead in the Arena, and Soul Reap is nifty for finishing off enemies who are at low HP. Lightning Cage is also a great choice for Sun Wukong, allowing him to protect the buffs he steals and deal extra damage based on his enemy's MAX HP.
SUN WUKONG TACTICS
While Sun Wukong excels as an Arena Champion, he also has enough versatility to be a useful asset in some of RAID: Shadow Legends' other top game modes.
CAMPAIGN
Sun Wukong is a solid choice for powering through the Campaign, with Staff of Wonder and Now You See Us helping him to steal buffs and clear waves while Gotcha! allows him to stun any particularly tricky target.
DOOM TOWER
Sun Wukong can hold his own in the Doom Tower, with his buff stealing and ability to ignore DEF coming in handy during the later stages when enemy teams start getting very buff-heavy.
FACTION WARS
Sun Wukong makes the Skinwalkers Faction proud and is a great pick if you're looking for a damage dealer to help you clear Faction Wars. His passive revive also makes sure he can keep fighting if he's taken down.
ARENA
This is where the Monkey King really shines – it's hard to argue with a Champion who can steal all buffs from all enemies as well as being able to ignore DEF. Combine this with his passive revive after three turns and Wukong is a real force to be reckoned with.
SUN WUKONG KEY INFO
STRENGTHS
WEAKNESSES

Great Arena Champion – stealing buffs and placing Block Buffs is going to help deal with buff-heavy teams.
Only Champion in the game who can place Sheep debuffs with a Skill.
Lots of Ignore DEF on his second skill to help deal plenty of damage.

No multi-hit skills, and only one unconditional AoE attack.
Relies heavily on Accuracy to get the most out of his kit
Passive can be negated by Block Revive
| | |
| --- | --- |
| FACTION | Skinwalkers |
| RARITY | Legendary |
| TYPE | Attack |
| AFFINITY | Spirit |
| HOW TO UNLOCK | Sun Wukong Chase Event, Ancient Shard, Sacred Shard |
MAX STATS
| | |
| --- | --- |
| HP | 16,515 |
| ATTACK | 1,586 |
| DEFENSE | 892 |
| SPEED | 105 |
| CRITICAL RATE | 15% |
| CRITICAL DAMAGE | 63% |
| DEBUFF RESISTANCE | 30 |
| DEBUFF ACCURACY | 10 |
QUIT MONKEYING AROUND – PLAY SUN WUKONG TODAY
Ready to summon the mighty Sun Wukong? Play RAID: Shadow Legends for free now!