Wurlim Frostking's formidable nature is evident from the moment you first set eyes on him, making him right at home in a dark fantasy RPG like RAID: Shadow Legends and sure to impress – and intimidate – as part of any Champion roster.
Once hailed as the greatest leader of the Old Norr, the warlord's foolishness and pride were his downfall. Attempting to strike the Arbiter during a battle that he had been called to aid her, his people were scattered and Wurlim himself was sealed in an icy tomb. Freed and resurrected by corrupt necromantic scholar Bad-el-Kazar, he was soon sold into the ranks of the infamous Cult of K'Leth, and remains a terrifying figure among the ranks of the Knights Revenant.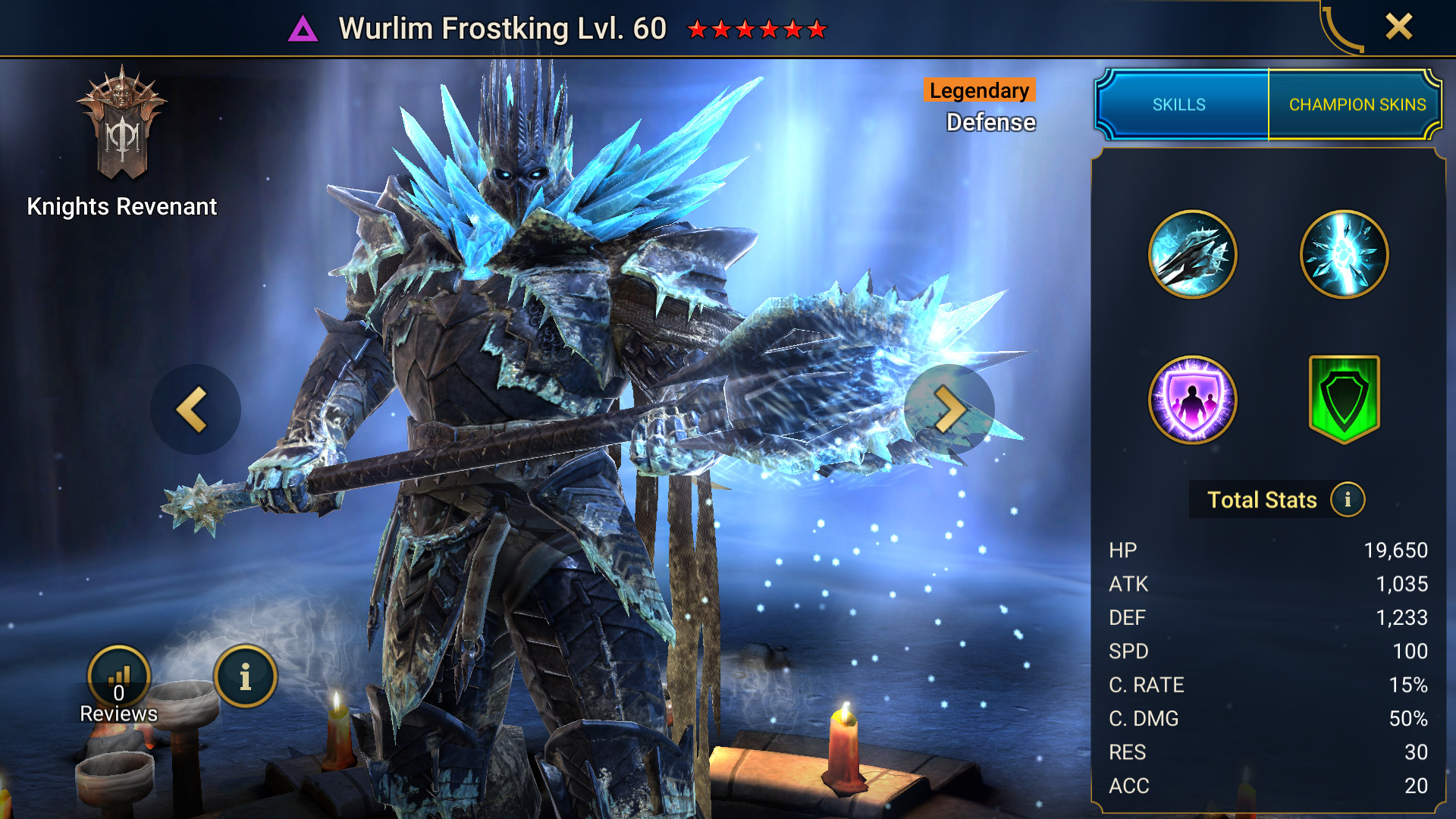 If you need an unyielding defender with some additional tricks up the sleeve of his frozen platemail, Wurlim Frostking is a solid choice.
WHY PLAY WURLIM FROSTKING IN RAID: SHADOW LEGENDS?
A towering frozen juggernaut from the Knights Revenant Faction, Wurlim Frostking can really send a chill up your opponent's spine. With strong innate defenses, the ability to place the powerful Strengthen buff on his allies, and irresistable stat lowering debuffs on his enemies, Wurlim is a versatile Legendary who can find a home in both Arena and Doom Tower teams.
HOW TO GET WURLIM FROSTKING IN RAID: SHADOW LEGENDS?
Wurlim Frostking can be acquired from Void Shards.
WHAT ARE WURLIM FROSTKING'S SKILLS?
In addition to having strong defensive capabilities, Wurlim Frostking has both buffs and debuffs to help him dominate the battlefield – check out all his skills in full below.
Winds of Winter – Attacks 1 enemy. Has a 30% chance of placing a Freeze debuff for 1 turn. Places a Perfect Veil buff on the ally with the lowest HP for 2 turns if the Freeze debuff is placed. Places a Veil buff on the ally with the lowest HP for 1 turn if the Freeze debuff is blocked or resisted.
Frostbite Blast – Attacks all enemies. Has a 70% chance of placing a 25% Decrease C. DMG debuff and a 50% Decrease ACC debuff for 2 turns. These debuffs cannot be resisted. Also places a 30% Increase C. DMG buff on all allies for 2 turns.
Icegrave Armor – Places a 25% Strengthen and a 60% Increase DEF buff on all allies for 2 turns.
Wurlim Frostking also has an Aura that increases ally DEF in Doom Tower battles by 40%.
WURLIM FROSTKING RECOMMENDATIONS
The key to utilizing any Champion effectively is a good build, and Wurlim Frostking is no exception. Read below for our recommendations when it comes to Masteries, Gear, and Blessings for this icy behemoth.
MASTERIES
For building Wurlim, there are two main paths you can go down in terms of Masteries: you concentrate on damage, turning him into a nuker for PvE content like the Demon Lord and Dungeons, or you leverage his high Defense, Strengthen buff, and other debuffs as a hybrid tank and support for modes like Arena and Doom Tower. For a nuker-focused build, you'll want to build towards the Tier 6 Offense Mastery of Warmaster, alongside Masteries like Methodical, Bring It Down, and Life Drinker along the way. You'll also want to supplement this with Support Masteries like Master Hexer, Lore of Steel, or Swarm Smiter.
For a tank/support build that focuses more on survivability, it's best to aim for the Tier 6 Defense Mastery of Fearsome Presence to increase the chance of landing Freeze debuffs with Wurlim's default skill. You'll also want to pick up the Retribution Defense Mastery, for the chance for Wurlim to counterattack and place a Freeze debuff on his attacker, whenever he loses over 25% of his HP from a single skill. Support Masteries like Evil Eye which can increase Wurlim's ACC are also a welcome addition.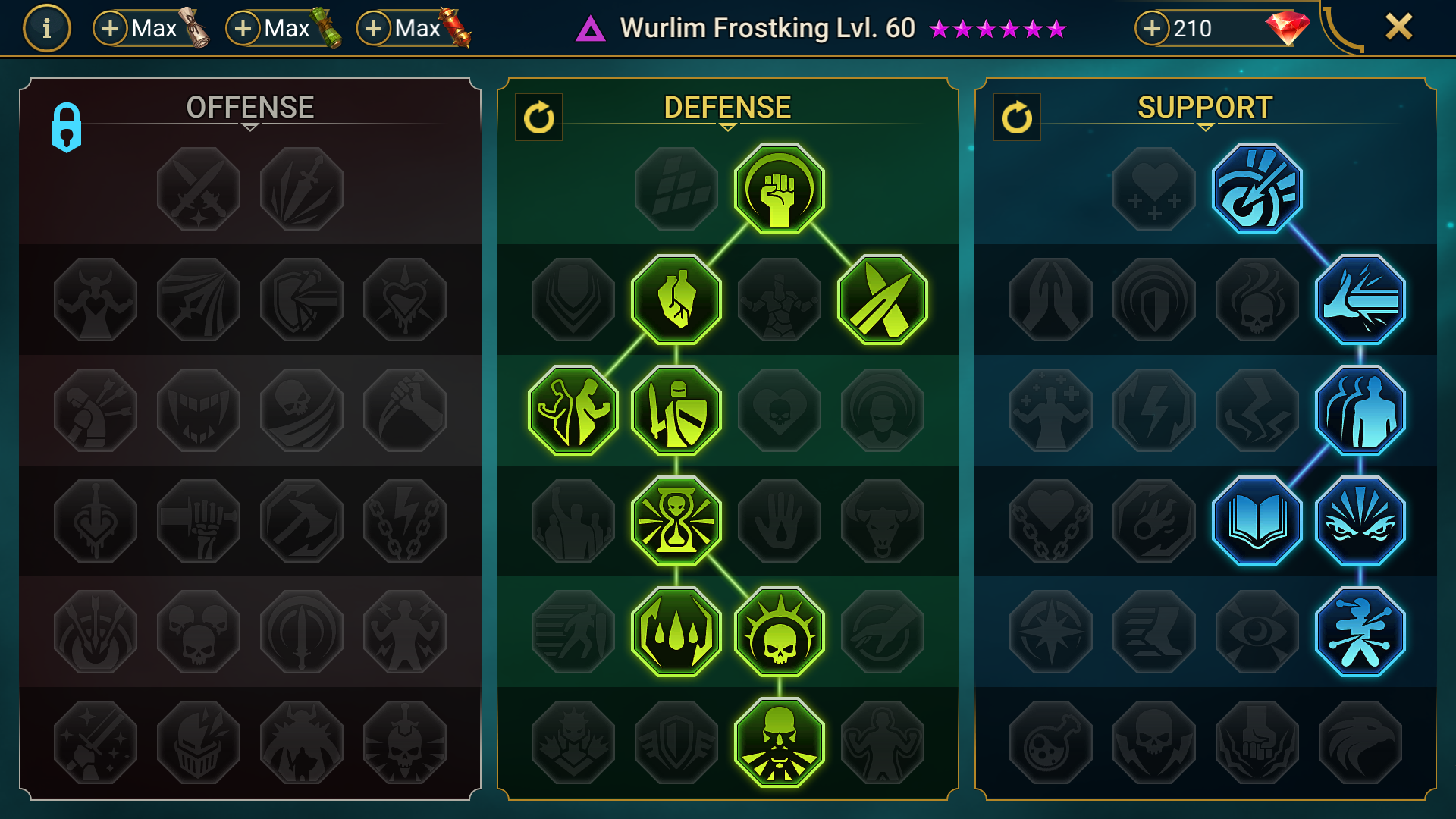 GEAR
With Wurlim's offensive skills scaling off of his Defense stat, you'll want to pride Defense as a key focus for any piece of Gear you equip to him regardless of the build you pick for him. For a pure nuker build, Critical Rate and Critical Damage are must, along with some Speed for good measure. If you're positioning Wurlim as more of a support Champion, you'll want to build Accuracy to land the Freeze debuffs on his default skill, along with Speed to take your turn more often.
As for specific Sets, Defense-building Sets will pull double duty for raising both his offensive and defensive capabilities, while Sets that help Wurlim sustain his HP, boost his Accuracy, or top up his Speed are all great choices. You can't go wrong with Sets like Perception, Speed, Accuracy, Bolster, and Righteous.
BLESSINGS
In terms of Blessings, the two stand-out options for Wurlim fall along the same lines: do you want to deal damage, or do you want to be a support? If you're opting for damage, pick the Soul Reap Blessing from the Divinity of War to help finish off foes on a sliver of health. For those focusing on applying debuffs to debilitate the enemy, go for Brimstone from the Divinity of Chaos – just ensure Wurlim has enough Accuracy to land the Smite debuffs granted by this Blessing.
WURLIM FROSTKING TACTICS
Thanks to his versatile skillset, Wurlim can find his place in almost every area in RAID: Shadow Legends. While he doesn't excel in any particular field, and other Void Legendary Champions do outclass him, Wurlim Frostking remains useful right through to the late-game stages of progression. You'll just need to invest in highly specialized builds should you want to keep Wurlim a contender for end-game content.
DUNGEONS
Wurlim is a reliable pick for almost all of the game's Dungeons. Thanks to his Void Affinity, Wurlim doesn't have to worry about Affinity matchups across RAID's various Dungeon Stages. His Frostbite Blast skill works wonders for clearing waves in certain Dungeons, and requires no Accuracy check in order to land its two debuffs.
DOOM TOWER
Now this is where Wurlim truly shines. His AoE skill is a perfect wave clear for those tough floors, his Void Affinity means he doesn't have to worry about Affinity matchups, and his Aura even boosts the Defense of all of his allies, granting them that extra bit of survivability. His access to Freeze debuffs with his Winds of Winter skill also make him a perfect pick for fighting against Bommal the Dreadhorn and his terrifying Dreadbombs.
FACTION WARS
He's a versatile Defense Champion, who can help clear out those more difficult Faction Wars Stages on the way to unlock Lydia the Deathsiren. Freeze is also a welcome for crowd controlling tricky enemies, and Strengthen is an amazing buff to have at your disposal when dealing with those Cryptkeeper Stages.
WURLIM FROSTKING KEY INFO
STRENGTHS
WEAKNESSES

Can place irresistible debuffs with his second skill
Has access to the powerful Strengthen debuff
Has a versatile tool kit that works across PvP and PvE modes

Still requires ACC to make the most of his default skill
Is outclassed by other Void Legendaries requires very specific builds to be relevant in end-game content
| | |
| --- | --- |
| FACTION | Knights Revenant |
| RARITY | Legendary |
| TYPE | Defense |
| AFFINITY | Void |
| HOW TO UNLOCK | Void Shards, Summon Pool Events |
MAX STATS
| | |
| --- | --- |
| HP | 19,650 |
| ATTACK | 1,035 |
| DEFENSE | 1,233 |
| SPEED | 100 |
| CRITICAL RATE | 15% |
| CRITICAL DAMAGE | 50% |
| DEBUFF RESISTANCE | 30 |
| DEBUFF ACCURACY | 20 |
BE COOL WITH WURLIM FROSTKING TODAY
Want to give your opponents the gift of a new ice age with Wurlim? Download and play RAID: Shadow Legends for free now!