Of RAID: Shadow Legends' cast of hundreds of Champions, few can match the terrifying beauty of Erinyes – but for many players she's a key part in their introduction to this dark fantasy RPG.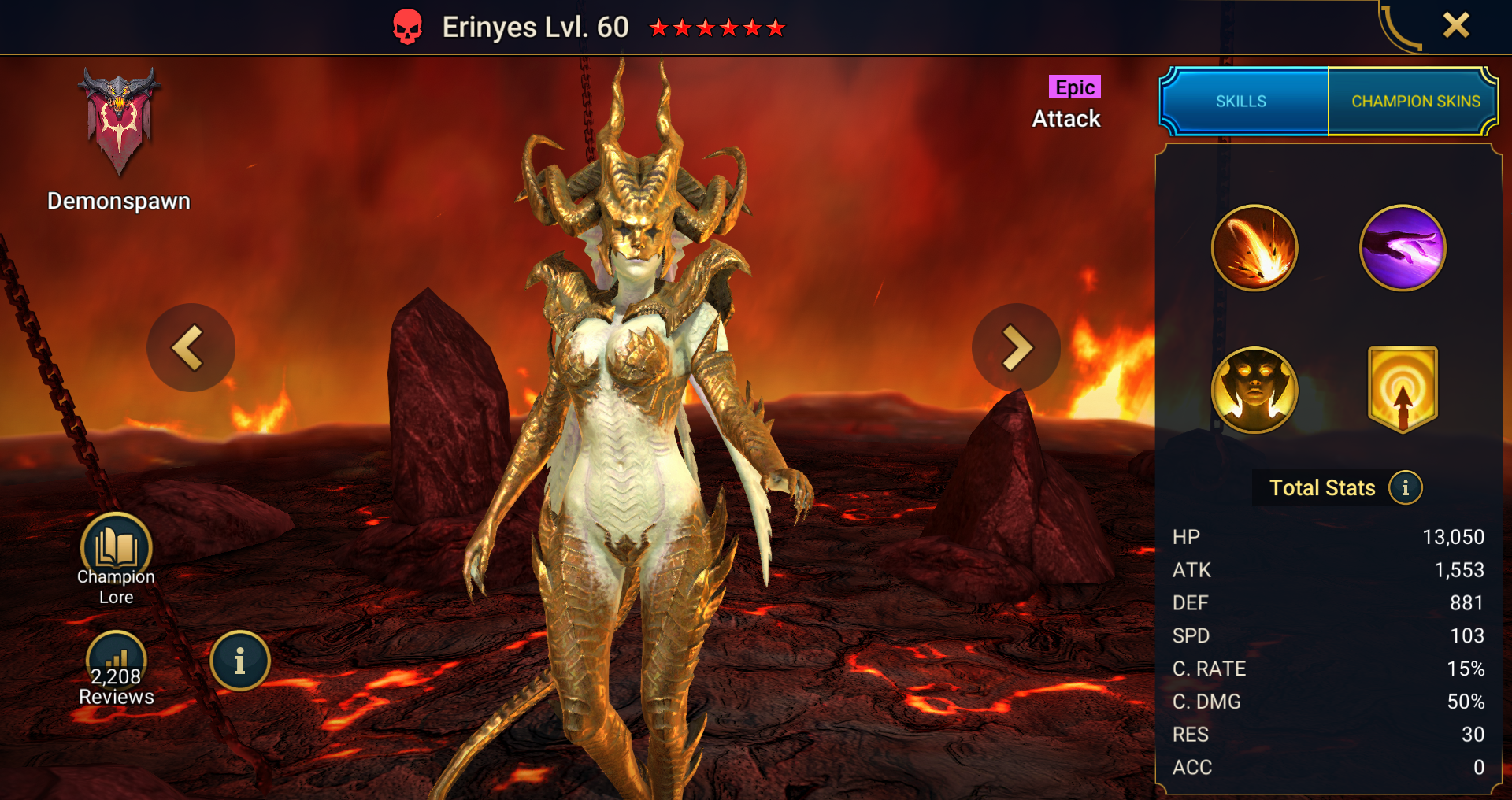 With her fearsome golden armor and towering crown of horns, Erinyes makes an excellent addition to early-to-mid-game lineups – make sure to try her as part of your RAID: Shadow Legends roster!
WHY PLAY ERINYES IN RAID: SHADOW LEGENDS?
Erinyes is a great debuff extender for wave-based encounters such as the Dragon's Lair, and an excellent Poisoner for the Demon Lord Clan Boss. Additionally, she can be used as Fusion material for the Legendary Lizardmen Champion Rhazin Scarhide.
HOW TO GET ERINYES IN RAID: SHADOW LEGENDS?
Erinyes can be summoned with Ancient Shards, Sacred Shards, or via Fusion – so there are plenty of ways to get her into your collection.
WHAT ARE ERINYES' SKILLS?
Erinyes' skills focus on putting out Poison and Block Buffs debuffs, as well as extending all debuffs on an enemy team. They include:
Razor Claws – Attacks 1 enemy. Has a 90% chance of placing a 5% Poison debuff for 2 turns.
Almighty Curse – Attacks all enemies. Has a 75% chance of increasing the duration of all debuffs on the target by 1 turn.
Engulfing Flame – Attacks 1 enemy. Places a Block Buffs debuff for 2 turns.
Erinyes also has an Aura that increases the ACC of all allies in Dungeons by 70 – a nifty little boost when you're getting stuck in to PvE.
ERINYES RECOMMENDATIONS
There are three key areas to pay attention to when playing any Champion: Masteries, Gear, and Blessings. If you want to make sure you get the best out of Erinyes, check out our expert recommendations below.
MASTERIES
As a PvE-focused Champion, Erinyes benefits from heading down the left-hand side of the Offense Mastery Tree. You'll want to get Masteries that improve damage, culminating in that all-important Warmaster Mastery for bonus damage against targets with high MAX HP. Couple that with the right-hand side of the Support Mastery Tree, focusing on things like Charged Focus for more ACC, Lore of Steel for better Artifact Set stat bonuses, and Master Hexer for a chance to extend the duration of Erinyes' Poison debuffs.
GEAR
The Toxic Artifact Set is a clear choice for Erinyes, giving you a chance to place extra Poison debuffs. This is especially useful when fighting the Demon Lord Clan Boss. In addition to this, Speed will enable Erinyes to take her turn more often, Accuracy will help land Poison and Block Buffs debuffs, Perception is a great combination of both SPD and ACC, and Lifesteal will give Erinyes healing and sustainability.
In terms of which actual stats to prioritize with Artifacts, ACC, DEF, and SPD are the big ones here. If you've got stats to spare, build that ATK to hit a little bit harder. For Erinyes' Accessories, you'll want to prioritize the SPD and ACC again, given their importance to her skills. If possible, try and ensure Erinyes is equipped with the Revenge Accessory Set to grant the possibility of counter-attacking and landing more Poisons.
BLESSINGS
Erinyes excels against the Demon Lord Clan Boss, so it makes sense to go for either Phantom Touch (for the additional damage chance on each hit plus bonuses as she is an Epic Champion) or Cruelty (which will decrease a target's DEF on each hit).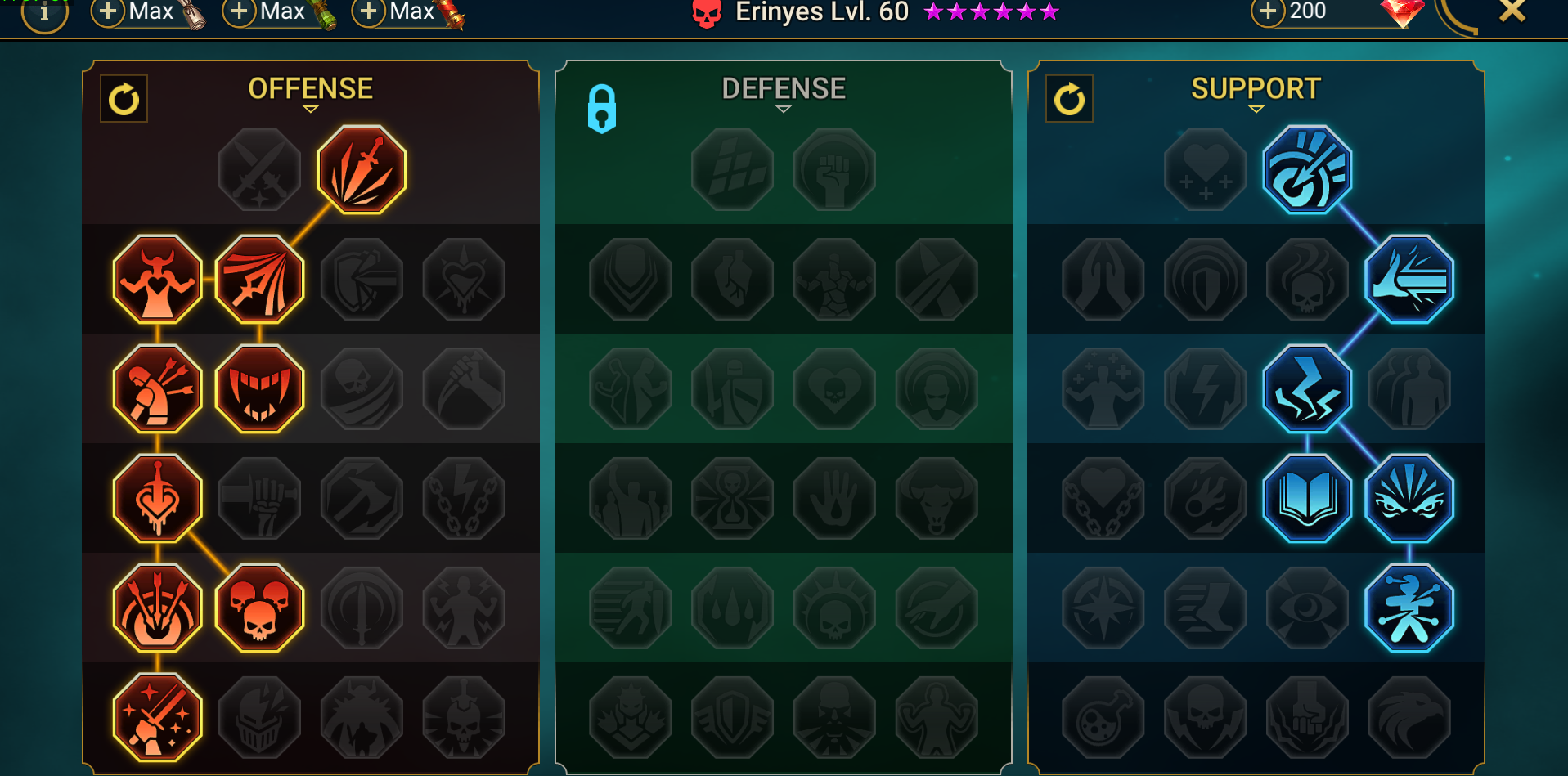 ERINYES TACTICS
As mentioned previously, Erinyes' primary role is as a PvE damage-dealer in the early to mid game – here are some of the best ways to apply her skillset.
CAMPAIGN
Erinyes can be used as a strong debuff extender early to mid game – if you summon her early enough. Her Almighty Curse skill, when fully upgraded, gives you a four-turn cooldown on a team-wide debuff extension chance – handy for extending those Decrease DEF, Weaken, and Decrease ATK debuffs.
DUNGEONS
Erinyes is a handy pick for Dragon's Lair thanks to her ability to place Poisons – they come in super handy for whittling down that purple bar whenever the Dragon rears up and prepares his hidden Scorch skill. Her Poisons also come in handy for the Ice Golem – if you can get his HP below those all-important thresholds via Poison damage, he won't be able to pull off his minion-reviving counterattack. Finally, Erinyes' Poison and debuff extension skills can find use in all of the Potion Keeps – except for the Spirit Potion Keep where she's at an Affinity disadvantage.
CLAN BOSS
Erinyes excels against the Demon Lord Clan Boss. Her ability to place Poison debuffs and extend them means she deals plenty of damage passively, making her a real thorn in the Demon Lord's side.
FACTION WARS
Although not as powerful as some Demonspawn Champions in this game mode, Erinyes' debuffs and her ability to extend them make her handy for Stages 7, 14, and 21 when facing off against the Faction Crypt Keepers.
ERINYES KEY INFO
STRENGTHS
WEAKNESSES

Poison and debuff extension skills
Great Champion for Demon Lord Clan Boss

Low damage multipliers
Easily outclassed by other Epic and Legendary Champions
| | |
| --- | --- |
| FACTION | Demonspawn |
| RARITY | Epic |
| TYPE | Attack |
| AFFINITY | Force |
| HOW TO UNLOCK | Ancient Shard, Sacred Shard, Fusion |
MAX STATS
| | |
| --- | --- |
| HP | 13,050 |
| ATTACK | 1,553 |
| DEFENSE | 881 |
| SPEED | 103 |
| CRITICAL RATE | 15% |
| CRITICAL DAMAGE | 50% |
| DEBUFF RESISTANCE | 30 |
| DEBUFF ACCURACY | 0 |
GO FOR GOLD WITH ERINYES TODAY
Ready to channel your inner demon with Erinyes? Play RAID: Shadow Legends for free now!