With a frosty exterior and a piercing aim, Coldheart is one of the most renowned warriors in the fantasy RPG RAID: Shadow Legends. Coldheart is famed for her ability to bring down even the biggest of targets with a single well-placed arrow, with her position among the ranks of the Dark Elves' hunters secured for as long as she wields her bow.
Check out our guide on how to use the Rare Dark Elf Champion Coldheart in RAID: Shadow Legends and take on some of Teleria's mightiest foes!
WHY PLAY COLDHEART IN RAID: SHADOW LEGENDS?
Coldheart is known for being able to deal massive damage with a single strike against enemies with high HP, while also depleting their Turn Meter.
Her first skill is a randomly placed four-hit attack that can also place a Heal Reduction debuff. Against a target like Fyro the Fire Knight, this is an invaluable skill, as it can tear through Fyro's shield, paving the way for her allies to deal damage and deplete his Turn Meter. She can also place Poison debuffs with her second skill, but only against targets who are already under a Heal Reduction debuff.
However, her signature skill is her third one, Heartseeker. This destructive attack deals damage based on the enemy's max HP, and will deplete their Turn Meter by 100%. With an extra 30% chance to land as a critical hit as well, Coldheart is capable of dealing astronomical damage.
HOW TO GET COLDHEART IN RAID: SHADOW LEGENDS?
Coldheart can be acquired by summoning her from Void Shards at the Portal.
WHAT ARE COLDHEART'S SKILLS?
Coldheart's skills may appear relatively simple, but her power remains undiminished. She will dominate a single target, preventing heals, choking them with Poisons, depleting their Turn Meter, and dealing massive damage.
Flurry of Arrows – Attacks 4 times at random. Each hit has a 25% chance of placing a 100% [Heal Reduction] debuff for 2 turns.
Art of Pain – Attacks all enemies. Has a 30% chance of placing a 50% [Decrease ACC] debuff for 1 turn. Places a 5% [Poison] debuff for 2 turns if the target is under a [Heal Reduction] debuff.
Heartseeker – Attacks 1 enemy. Decreases the target's Turn Meter by 100%. Has an extra 30% chance of inflicting a critical hit. Damage increases according to enemy MAX HP.
COLDHEART RECOMMENDATIONS
Coldheart can do multiple things with her skillset, but the best way to maximize her potential is as a damage dealer with plenty of Speed and Accuracy in her build. Check out our recommendations for the perfect Gear, Masteries, Blessings, and more to get the most out of Coldheart in RAID: Shadow Legends.
MASTERIES
Given her proficiency at taking out Bosses across Teleria, Coldheart's masteries should focus on the left-hand side of the Offense Mastery Tree until reaching the Tier 6 Mastery, Giant Slayer. This will allow Coldheart to have a 30% chance at dealing bonus damage to a target with each hit of a skill. The bonus damage is equal to a percentage of the target's MAX HP, so imagine getting four instances of bonus damage against the Demon Lord Clan Boss with her Flurry of Arrows skill. That's a lot of damage!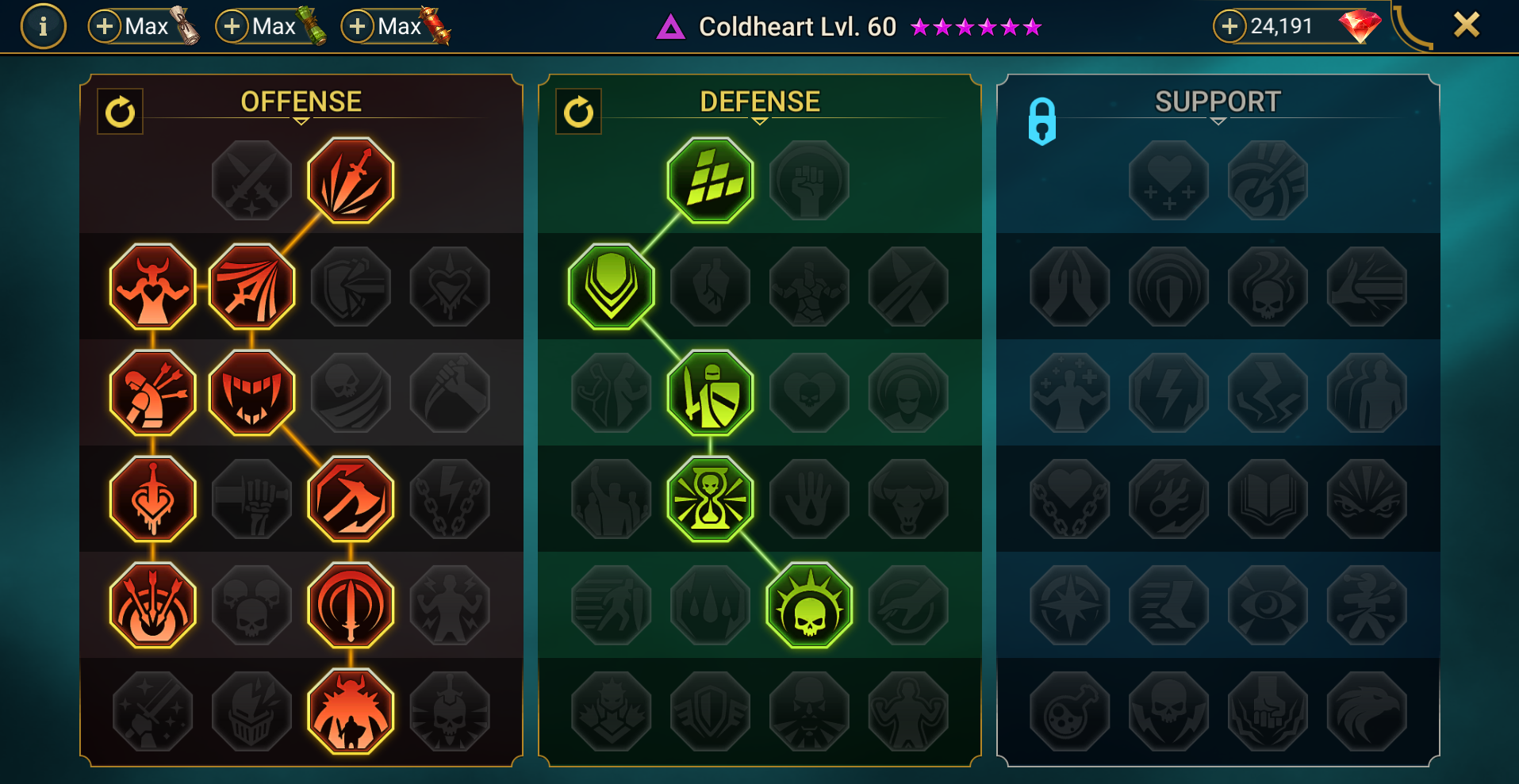 Along the way, grab other Offense Masteries such as Single Out, Life Drinker, and Bring It Down for increased damage, and the ability to restore some health, keeping Coldheart in the fight for longer. To further sustain Coldheart in battle, supplement the Offense Masteries with Defense Masteries such as Tough Skin and Blastproof for additional survivability.
GEAR
Building Coldheart in the best Gear requires concentration in several different areas, but a primary focus on Critical Damage. With the Heartseeker skill having an extra 30% chance to land as a critical hit, you only need to build up to 70% Critical Rate, allowing you to focus on critical damage. Building your Attack stat will also help the damage increase further, and extra Speed is always good.
Elsewhere, Accuracy is going to be very important for landing that Turn Meter depletion, as well as the Heal Reduction and Poison debuffs. A good rule of thumb for having enough Accuracy when taking on Dungeons is to take the Dungeon Stage and multiply it by 10. So, for Stage 20 of the Spider's Den, you'll need approximately 200 Accuracy to ensure you're able to reduce Skavag's Turn Meter with Heartseeker.
BLESSINGS
There are two clear choices for Blessings when it comes to Coldheart: Hero's Soul or Phantom Touch. The former will increase damage inflicted by Coldheart when she's attacking Bosses and their minions, with the increase in accordance with the number of living enemies. It's a perfect choice if you're building Coldheart primarily for taking on the Spider's Den. Phantom Touch gives Coldheart a chance of inflicting bonus damage to an enemy, with the bonus damage being proportional to Coldheart's Attack stat. It's great for late-game content and most Bosses in general.
COLDHEART TACTICS
As a damage dealer, Coldheart is a great pick for almost any area of the game. She excels from early game right through to the late game, becoming a viable pick for wave-based content and Boss fights alike. Pair her with Champions that can place Decrease Defense and Weaken debuffs, while buffing Coldheart with Increase Attack, Increase Critical Damage, and Increase Critical Rate buffs. Even the mightiest foe will fall before Coldheart!
DUNGEONS
Coldheart excels in several Dungeons, being able to deal massive damage to Bosses thanks to her third skill, Heartseeker. If she has the Giant Slayer Mastery as well, that damage potential only goes up. Coldheart's greatest impact will be felt against the Spider and the Fire Knight, where she is capable of both dealing incredible damage and manipulating Turn Meter.
DOOM TOWER
As primarily wave-based content, Coldheart may find some early and mid-game usage here in Normal Rooms. However, as time goes on and players summon other Epic and Legendary Champions, she may fall off. Where she really shines is the Secret Rooms that require Rare Champions and Void Champions, as well as the Boss Floors.
FACTION WARS
Coldheart is an excellent choice for anybody looking to complete the Dark Elves Faction Crypt. With her damage output, including an AoE skill, and the ability to deplete one target's Turn Meter with Heartseeker, she is a must.
COLDHEART KEY INFO
STRENGTHS
WEAKNESSES

Capable of massive damage numbers against Bosses with high HP
Helpful debuffs like Poison and Heal Reduction
100% Turn Meter depletion on Heartseeker skill

Not great for PvP game modes in the Arena
Low HP, difficult to keep alive against enemies with AoE attacks
Can be outclassed by Epic and Legendary Champions
| | |
| --- | --- |
| FACTION | Dark Elves |
| RARITY | Rare |
| TYPE | Attack |
| AFFINITY | Void |
| HOW TO UNLOCK | Void Shards, Summon Pool Events |
MAX STATS
| | |
| --- | --- |
| HP | 13,710 |
| ATTACK | 1,376 |
| DEFENSE | 738 |
| SPEED | 94 |
| CRITICAL RATE | 15% |
| CRITICAL DAMAGE | 57% |
| DEBUFF RESISTANCE | 30 |
| DEBUFF ACCURACY | 0 |
GET HUNTING WITH COLDHEART TODAY
Ready to bring down some big game with Coldheart? Play RAID: Shadow Legends for free now!