RAID: Shadow Legends has 750+ Champions and very few of them match up to Geomancer! A mighty Dwarf, he is the perfect Champion to build your team around when you start playing this dark fantasy RPG.
Cast out of the Tunneling Guild when his experiments began to alarm his superiors, Geomancer Durok Sunblight now employs his powers as he sees fit. Far beyond the Guild's control, Durok acts as a traveling mercenary, taking on any job that gives him the opportunity to push his Geomancer abilities to new bone-shattering heights.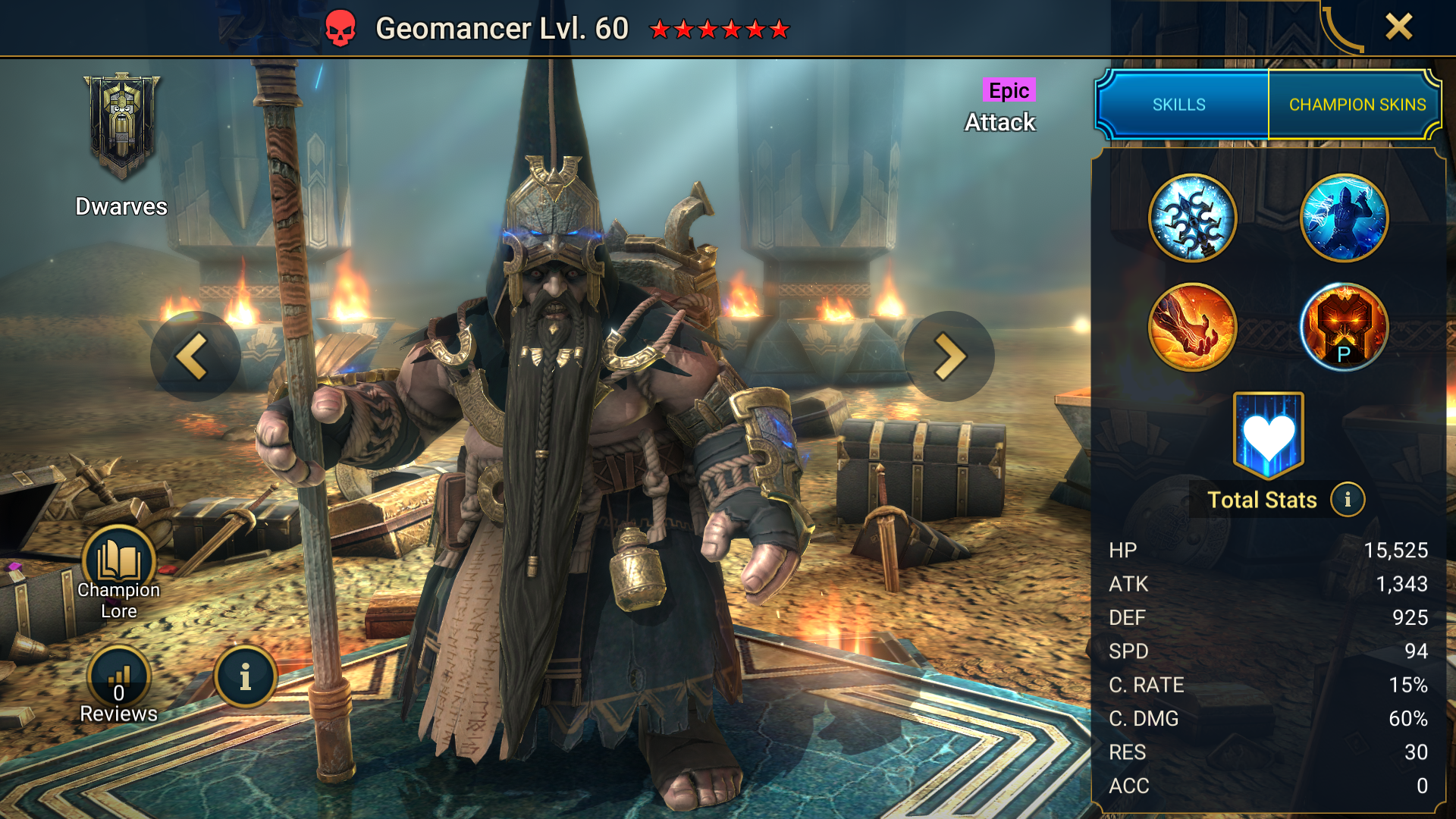 Arrayed in golden Dwarven finery and runes from his Geomantic tablet right down to his very skin, Durok's rock-melting glare and fearsome staff are but a couple of reasons this barefoot behemoth is not to be messed with. Add him to your RAID: Shadow Legends roster and you won't regret it!
WHY PLAY GEOMANCER IN RAID: SHADOW LEGENDS?
Geomancer is one of the most sought-after Epic Champions in RAID: Shadow Legends. An incredibly powerful Attack-type Champion, he's dripping with debuffs, metes out massive damage with his passive skill alone, and is versatile enough to be a top pick in multiple game modes. If you're looking to dominate in PvE, he's pretty much a must-have.
HOW TO GET GEOMANCER IN RAID: SHADOW LEGENDS?
Geomancer can be unlocked with Ancient Shards or Sacred Shards – and, as you'll soon see, he's well worth the investment.
WHAT ARE GEOMANCER'S SKILLS?
Geomancer has a skillset well suited to multiple areas of RAID: Shadow Legends, particularly in PvE settings. His abilities include:
Tremor Staff – Attacks all enemies. Has a 30% chance of placing a 50% Decrease ACC debuff for 2 turns.
Creeping Petrify – Removes all buffs from a target enemy then attacks them.
Alternatively, steals all buffs if the target is under a HP Burn debuff placed by this Champion.
Reduces the cooldown of the Quicksand Grasp Skill by 2 turns if the target is killed by this Skill while under a HP Burn debuff placed by this Champion.
Quicksand Grasp – Fully depletes the target's Turn Meter. Fills this Champion's Turn Meter by the amount the target loses.
Has a 75% chance of placing a HP Burn and a 25% Weaken debuff on the target for 3 turns.
Stoneguard (Passive) – Decreases the damage all allies receive by 15% and deflects that damage onto each enemy under a HP Burn debuff placed by this Champion. If there are multiple Champions on the team with this Skill, only one will activate.
Whenever this Champion is attacked, deflects 30% of the damage instead. When deflecting damage, has a 30% chance of dealing additional damage equal to 3% of the target's MAX HP on each enemy hit.
Geomancer also has an Aura that increases the HP of all allies in Battles by 25% – something not to be sniffed at in any game mode.
GEOMANCER RECOMMENDATIONS
There are three key areas to pay attention to when playing any Champion: Masteries, Gear, and Blessings. If you want to get the most out of Geomancer during your RAID: Shadow Legends battles, consider the following recommendations:
MASTERIES
Mastery-wise, there are multiple ways you can build the mighty Geomancer. For taking down someone like the Demon Lord Clan Boss, delve deep into the Offense Mastery Tree to pick up Warmaster on Tier 6 while combining this with some points in the Defense Mastery Tree to boost his toughness.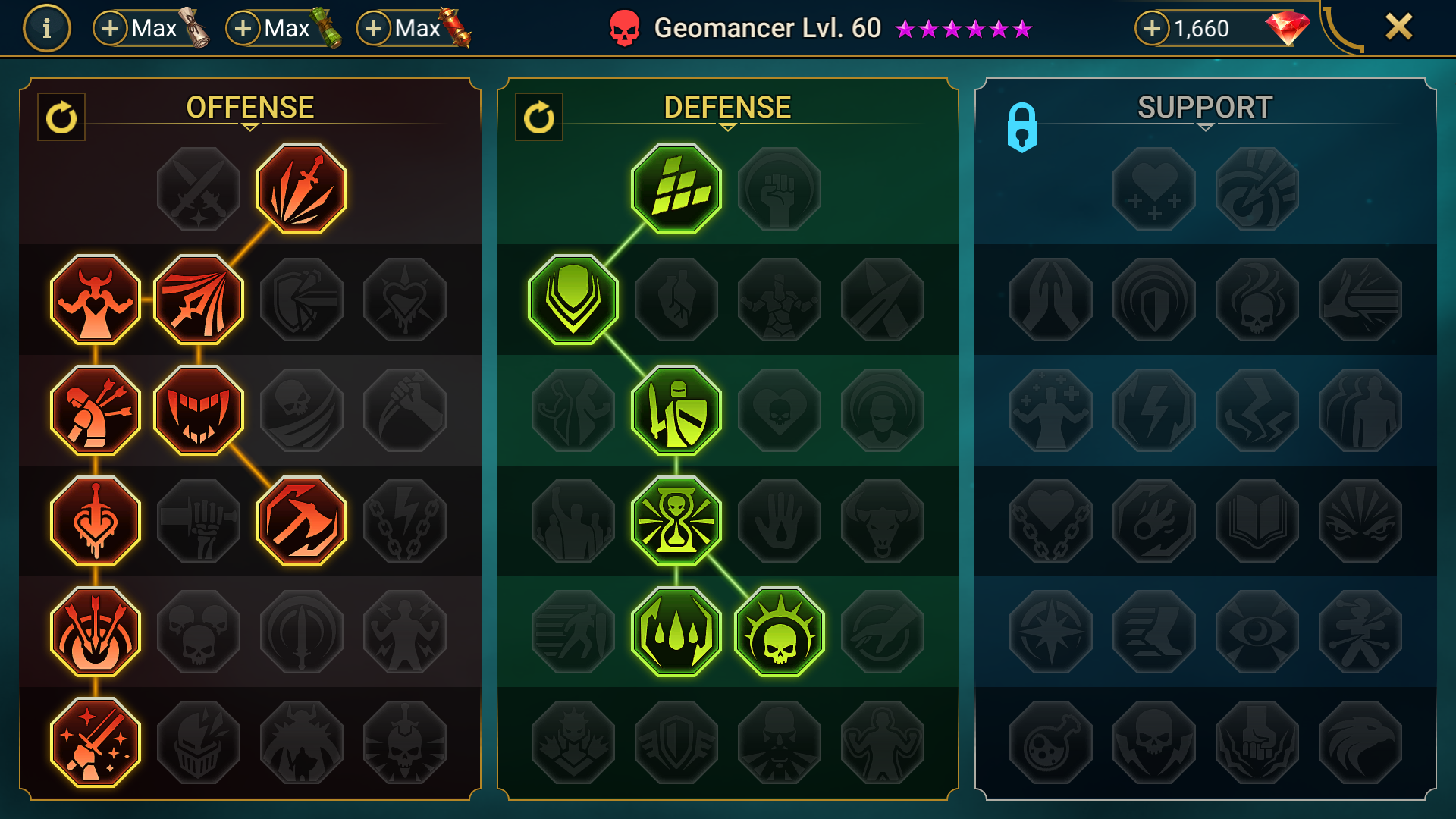 As his basic attack hits all enemies, a crowd control build is another solid choice for Geomancer – still fill out the left-hand side of the Offense Mastery Tree, but make sure to pick up the Tier 6 Fearsome Presence Mastery at the bottom of the Defense Mastery Tree for the extra chance to place his Stun debuffs. They'll never know what hit them (spoilers: it's Geomancer).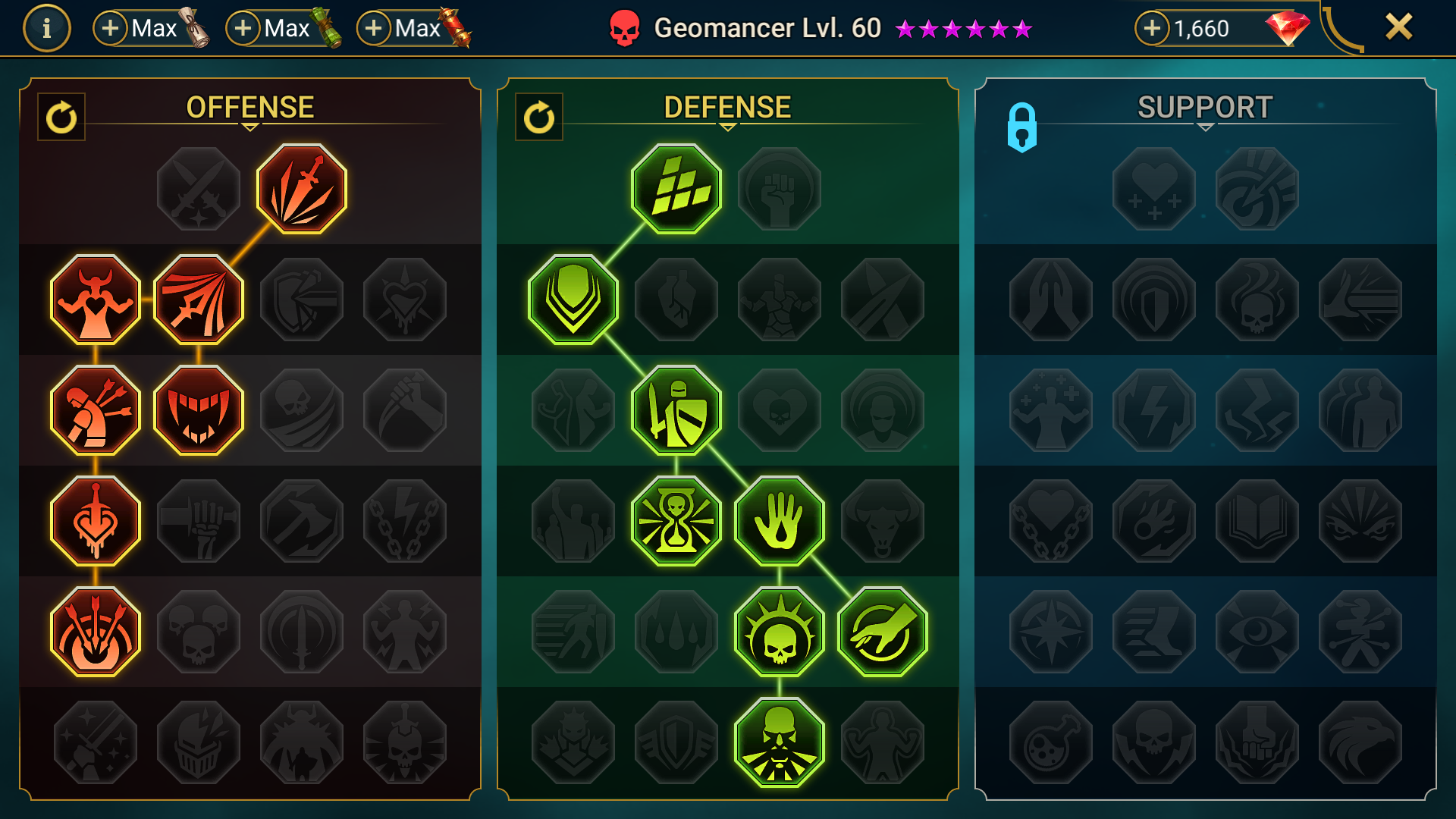 GEAR
Geomancer differs from most Attack-type Champions in that Accuracy, Speed, HP, and DEF are his priorities, helping keep him alive for longer as well as reflecting back as much damage onto high HP targets as possible – easy peasy. Which exact Artifact Sets are best for you will depend on your build, but Perception is a must-have along with either the Stalwart Set for mitigating damage from AoE attacks or the Stun Set for landing those all-important debuffs.
BLESSINGS
The best Blessings for Geomancer are the ones that support your chosen build. For example, Phantom Touch's chance at bonus damage is great for taking down the Demon Lord Clan Boss, whereas Cruelty works well at lowering enemies' defenses. Try these out and see how you go – you'll be crushing your enemies in no time.
GEOMANCER TACTICS
Geomancer is a highly versatile Champion, smashing his way through Dungeons, Doom Tower, and Faction Wars in style.
DUNGEONS
His passive skill Stoneguard makes him an excellent choice against high-MAX HP targets, with HP Burn and Weaken reflecting back any damage Geomancer receives while also paving the way for nukers to do damage of their own. Geomancer's Quicksand and Creeping Petrify combo is great for stealing Turn Meter against Bosses like the Spider and Fire Knight, while his Tremor Staff is incredible at clearing waves of enemies. When equipped with a Stun Set, the Tremor Staff Skill can also help with crowd control.
DOOM TOWER
With its waves of enemies and high-MAX HP enemies, Geomancer is a great addition to your team. In addition to being awesome at taking down Doom Tower's Bosses, he can also help chip away at waves and generally help you stay on top of things.
FACTION WARS
Here Geomancer will make his presence known by stealing buffs and Turn Meter, combining well with some of his harder-hitting Dwarven comrades (with a little healing sprinkled in for added support).
GEOMANCER KEY INFO
STRENGTHS
WEAKNESSES

Plenty of important debuffs and Turn Meter control
Capable of massive damage from his passive skill
Versatile – can be built for multiple game modes

Not suited for Arena – enemies have high Resistance
| | |
| --- | --- |
| FACTION | Dwarves |
| RARITY | Epic |
| TYPE | Attack |
| AFFINITY | Force |
| HOW TO UNLOCK | Ancient Shards, Sacred Shards |
MAX STATS
| | |
| --- | --- |
| HP | 15,525 |
| ATTACK | 1,343 |
| DEFENSE | 925 |
| SPEED | 94 |
| CRITICAL RATE | 15% |
| CRITICAL DAMAGE | 60% |
| DEBUFF RESISTANCE | 30 |
| DEBUFF ACCURACY | 0 |
GET CRACKING WITH GEOMANCER TODAY
Ready to get rocking? Play RAID: Shadow Legends for free now!