When you take to the field in the dark fantasy RPG RAID: Shadow Legends you want to make sure you have plenty of muscle on your side… and there are few lads chunkier than the aptly named Big 'Un.
Noted among his tribe not only for his size but also his friendly demeanor, Big 'Un's talent for battle was paired with a somewhat more unusual penchant for stories. It was the latter that led him to the city of Velyzar, where he spent a spell in the Guild of Gladiators before founding a mercenary company with a friend from his youth. Their first job? To protect a necromancer who bore a suspicious resemblance to the Grandmaster of Ireth.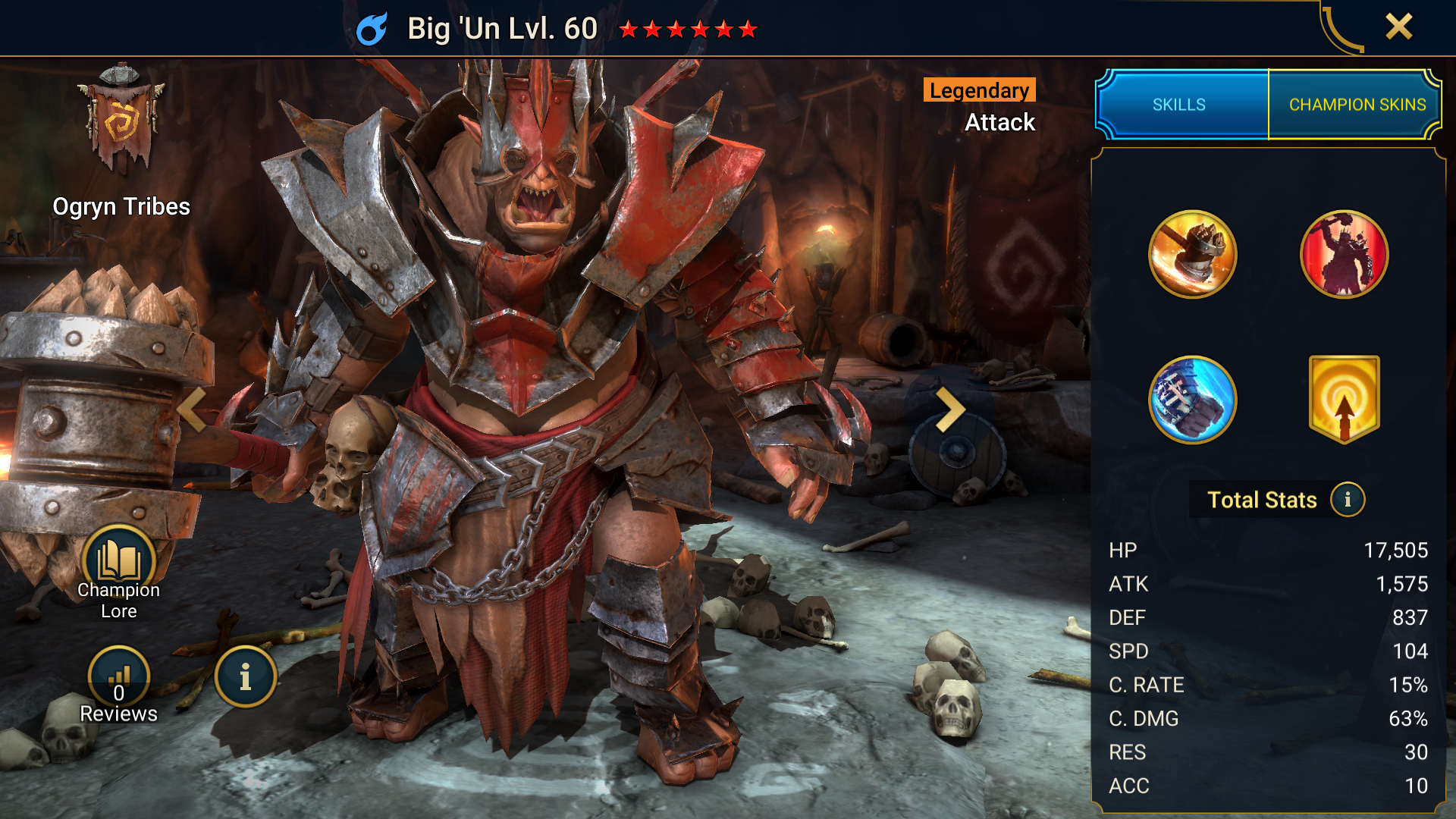 Add Big 'Un to your lineup if you need some big hammer energy – you won't be disappointed!
WHY PLAY BIG 'UN IN RAID: SHADOW LEGENDS?
A powerhouse of the Ogryn Tribes Faction, Big 'Un is great for both damage-dealing and debuffing. He can have three AoE attacks in total – although Head Splitter's AoE hit is conditional on him landing a crit. Big 'Un can put out decent damage numbers, land handy crowd control debuffs across an entire team with his AoE attacks, and carry a player through the Nightmare Campaign.
HOW TO GET BIG 'UN IN RAID?
Big 'Un can be acquired via Ancient Shards, Sacred Shards, or Primal Shards.
WHAT ARE BIG 'UN'S SKILLS?
Big 'Un's skills allow him to deal a solid array of damage and debuffs, making him a fearsome foe – find out exactly what each one does below.
Head Splitter – Attacks 1 enemy. Attacks all enemies 1 time if the first attack is critical.
Forward Charge – Attacks all enemies. Has a 30% chance of placing a Stun debuff for 1 turn. Also has a 50% chance of placing a 50% Decrease ACC debuff for 2 turns.
Molten Slag – Attacks all enemies 2 times. Decreases the Turn Meter by 25%. Has a 30% chance of placing a 30% Decrease SPD debuff for 2 turns.
Big 'Un also has an Aura that increases ally ACC in Dungeons by 90.
BIG 'UN RECOMMENDATIONS
Building Big 'Un right turns him into a powerful asset for your team, and luckily for you we have all the inside information on everything from Masteries to Gear right here – check it out below.
MASTERIES
There are two ideal builds for Big 'Un in terms of Masteries: either a nuker for the damage in PvP modes or crowd control for the debuffs if he's equipped with something like a Stun Artifact Set. For the nuker build Masteries, you should focus on building towards the Tier 6 Offense Mastery of Helmsmasher, grabbing Shield Breaker, Single Out, and Methodical along the way. To complete this nuker build, you'll also want to get your hands on some of Defense Masteries, such as Tough Skin, Resurgent, and Retribution.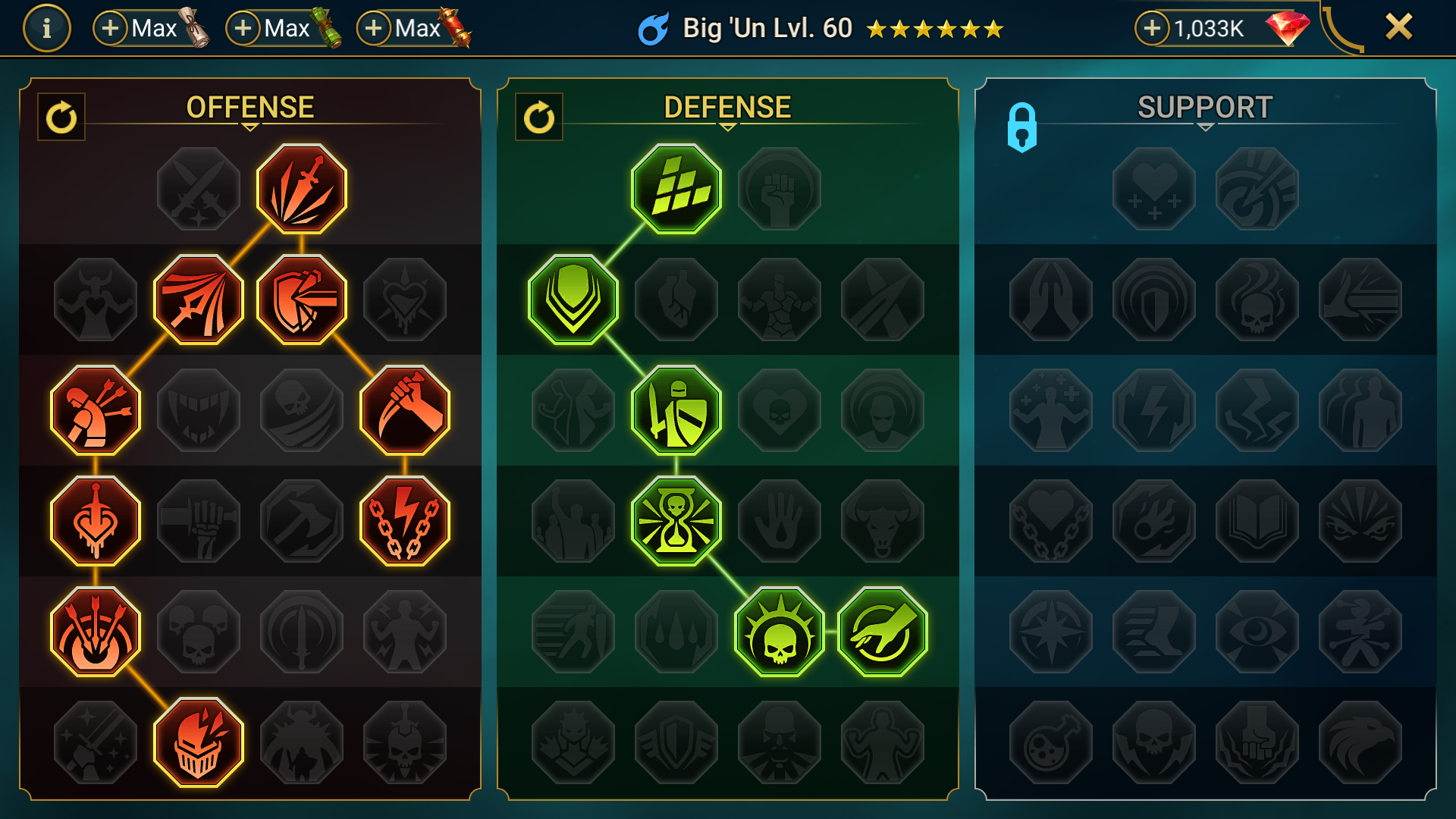 For a build that focuses on debuffing your opponents, you'll want to aim for the Tier 6 Defense Mastery of Fearsome Presence for that extra chance to land crowd control debuffs like Stun. Make sure to grab the Harvest Despair Defense Mastery as well for a 60% chance to place Leech debuffs while you're placing Stun debuffs. Your enemies will be controlled, and your team can keep themselves sustained through damage. As an Attack-type Champion, couple this build with Offense Masteries such as Deadly Precision, Heart of Glory, and Methodical.
GEAR
Big 'Un can be tricky to build, because you need lots of coverage in lots of different areas to make him fully effective. Primarily, he is an Attack-type Champion, so you'll want to get that Critical Rate up to 100% minimum. Once you've done that, if you're focusing on pure damage, you can just go for Attack and Critical Damage to get those numbers up. For PvE content such as Doom Tower, Faction Wars, and the Campaign, you'll also want Speed and Accuracy to take your turn more often and land those all-important debuffs.
In terms of specific Sets, focus on Sets that either boost your damage output, maintain your HP, boost your Accuracy to land debuffs, or enable you to land debuffs. Some great contenders here include Perception, Lifesteal, Savage, Cruel, Critical Damage, and Stun.
BLESSINGS
The two primary choices for Blessings on Big 'Un also line up with his Masteries and Gear selections, depending on how you've built him. If you've built him to focus on being a damage-dealer, then you'll want to grab the Soul Reap Blessing from the Divinity of War. If you're intending to use Big 'Un as a debuffer with plenty of Accuracy, then you'll want the Brimstone Blessing from the Divinity of Chaos. If you already have Brimstone on your team through another Champion, consider changing it out for something else, like Lightning Cage from the Divinity of Light.
BIG 'UN TACTICS
A great damage dealer and crowd controller, Big 'Un will find use in most areas of the game. While there are others that can do what he does but better, Big 'Un will prove valuable while a player is still in the early to mid game stages of progressing through everything that RAID: Shadow Legends has to offer.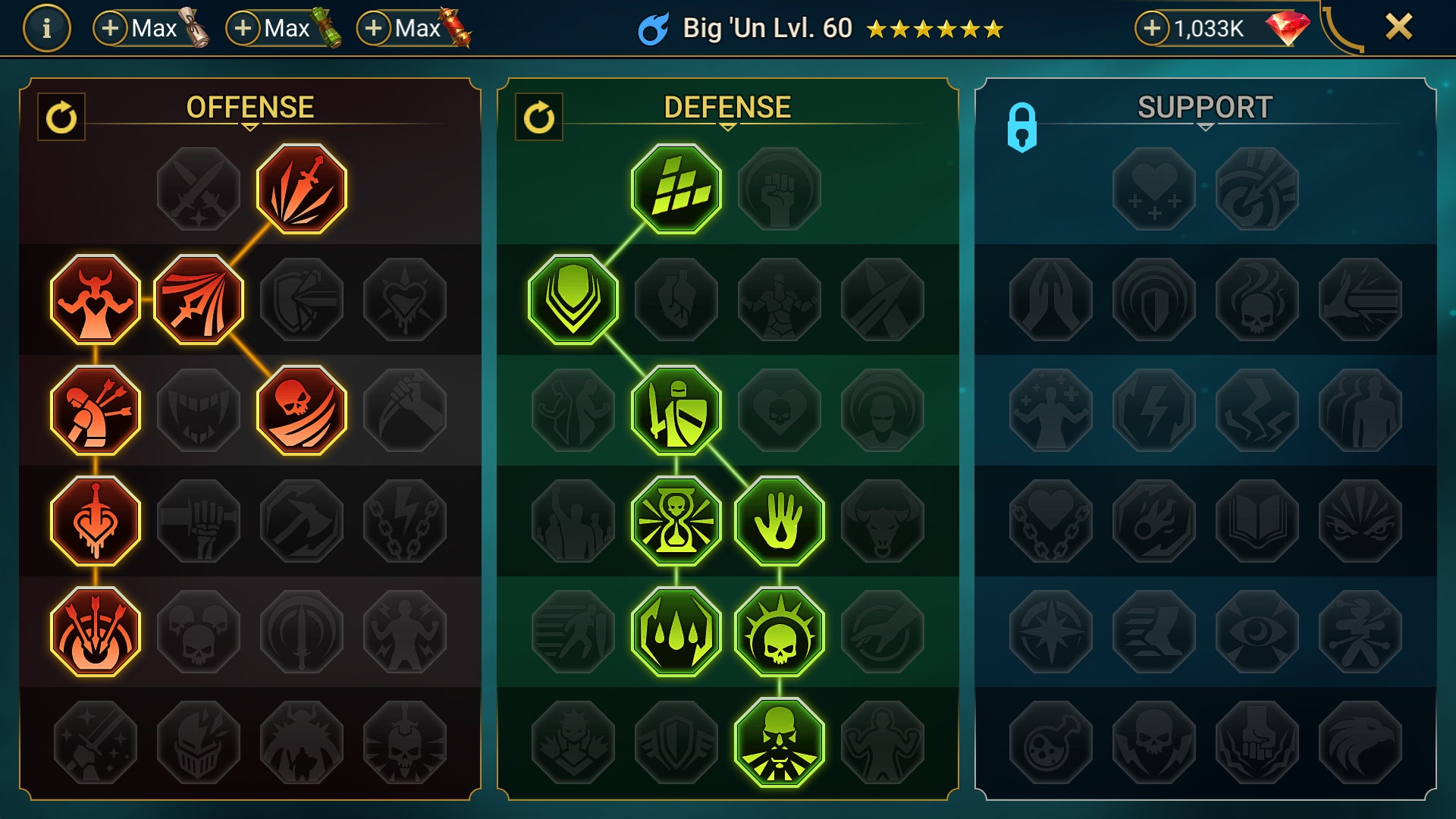 DUNGEONS
Big 'Un is a solid choice for all of the Dungeons. He brings the damage to deal with both the waves of enemies and the Bosses themselves, as well as AoE attacks to help crowd control the waves while you're tearing through them. He is Magic Affinity, though, so be aware when taking on certain Dungeon Stages.
DOOM TOWER
Again, very similar to the Dungeons, Big 'Un is a great choice for helping to clear the Doom Tower. His attacks deal good amounts of damage to clear the enemies on the Normal Floors, and he can be useful for taking out waves before Bosses on the Boss Floors. His Magic Affinity and Attack type also come in handy for those specific Secret Rooms too.
FACTION WARS
He's a great Attack-type Champion for Faction Wars, and with three AoE attacks, he can certainly be a big help in getting through the Faction Wars Stages on your way to getting Lydia the Deathsiren.
BIG 'UN KEY INFO
STRENGTHS
WEAKNESSES

Great damage-dealer with powerful attacks and multipliers
Excellent crowd control potential with three AoE attacks

Not as strong as he was upon initial release
Needs a lot of ACC to land debuffs if being used as a crowd control Champion
| | |
| --- | --- |
| FACTION | Ogryn Tribes |
| RARITY | Legendary |
| TYPE | Attack |
| AFFINITY | Magic |
| HOW TO UNLOCK | Ancient Shards, Sacred Shards, Primal Shards, Summon Pool events |
MAX STATS
| | |
| --- | --- |
| HP | 17,505 |
| ATTACK | 1,575 |
| DEFENSE | 837 |
| SPEED | 104 |
| CRITICAL RATE | 15% |
| CRITICAL DAMAGE | 63% |
| DEBUFF RESISTANCE | 30 |
| DEBUFF ACCURACY | 10 |
GET SMASHING WITH BIG 'UN TODAY
Ready to drop the hammer? Pick up Big 'Un and Play RAID: Shadow Legends for free today!