Fiery, fierce, and a force to be reckoned with, Zargala is a warrior who burns with the passion of revenge and is one of fantasy RPG RAID: Shadow Legends' most iconic characters. After her band of Orcs was slain by jealous humans fighting over land, she took up her father's greataxe and swore vengeance.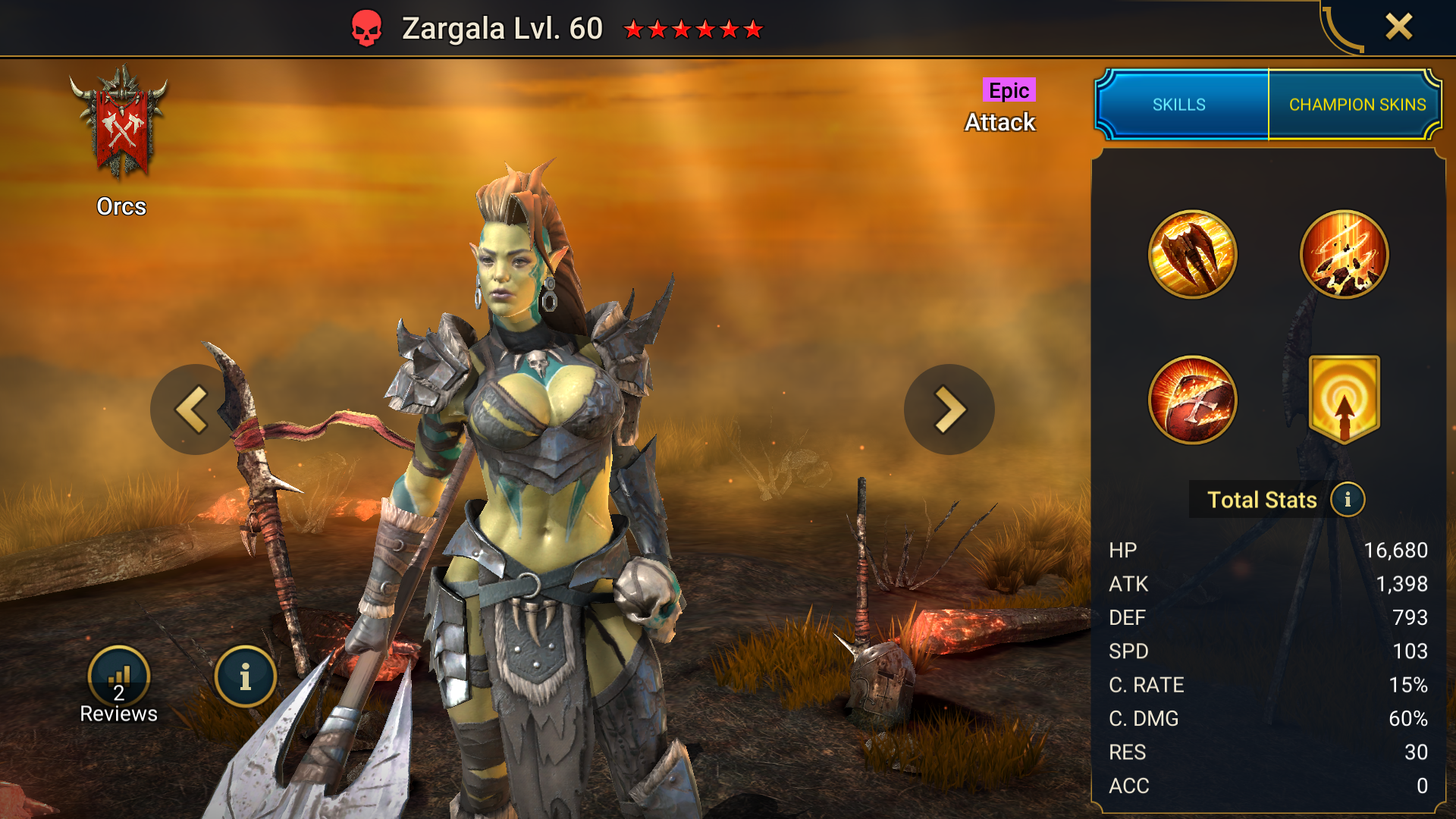 Check out our guide on how to use the Epic Orc Champion Zargala in RAID: Shadow Legends, and rain down destruction upon your enemies!
WHY PLAY ZARGALA IN RAID: SHADOW LEGENDS?
A trained fighter with the ability to carve open her opponents' defenses, Zargala stands out as a great Champion for both exposing weaknesses and dealing damage in RAID: Shadow Legends.
She boasts a three-hit AoE attack that can inflict Decrease Defense debuffs on an entire enemy team, as well as a single-target attack that will activate that triple-hitter if it kills its original target. She's capable of huge damage numbers, and is a great pick for many areas of RAID: Shadow Legends.
HOW TO GET ZARGALA IN RAID: SHADOW LEGENDS?
Zargala can be acquired by summoning her from Ancient, Primal, and Sacred Shards at the Portal.
WHAT ARE ZARGALA'S SKILLS?
Zargala's skills are pretty straightforward, but devastating in nature. She will tear down opponents and pave the way for massive damage from either herself or an ally.
Split Apart – Attacks 1 enemy. Has a 50% chance of placing a 25% Weaken debuff for 1 turn.
Devastate – Attacks 1 enemy. Instantly activates the Crack Armor skill if the target is killed by this attack.
Crack Armor – Attacks all enemies 3 times. After the first hit, has a 50% chance of placing a 60% Decrease DEF debuff on all enemies for 2 turns.
Zargala also has an Aura that increases Ally ACC in all Battles by 40.
ZARGALA RECOMMENDATIONS
Zargala can fulfill a number of roles on the team, but you'll need the right build for each one. Check out our recommendations for the perfect Gear, Masteries, Blessings, and more to get the most out of Zargala in RAID: Shadow Legends.
MASTERIES
Zargala's two key roles in RAID: Shadow Legends are as a heavy damage dealer, also known as a nuker, or as a debuffer. Most players will need to build Zargala according to what other Champions they have at their disposal. For instance, if you already have other nukers, then you might want to build Zargala as a debuffer to drop defenses so that your nukers can do more damage. Alternatively, if you already have Champions who drop defenses then you'll want to build Zargala in a way that enables her to dish out major damage.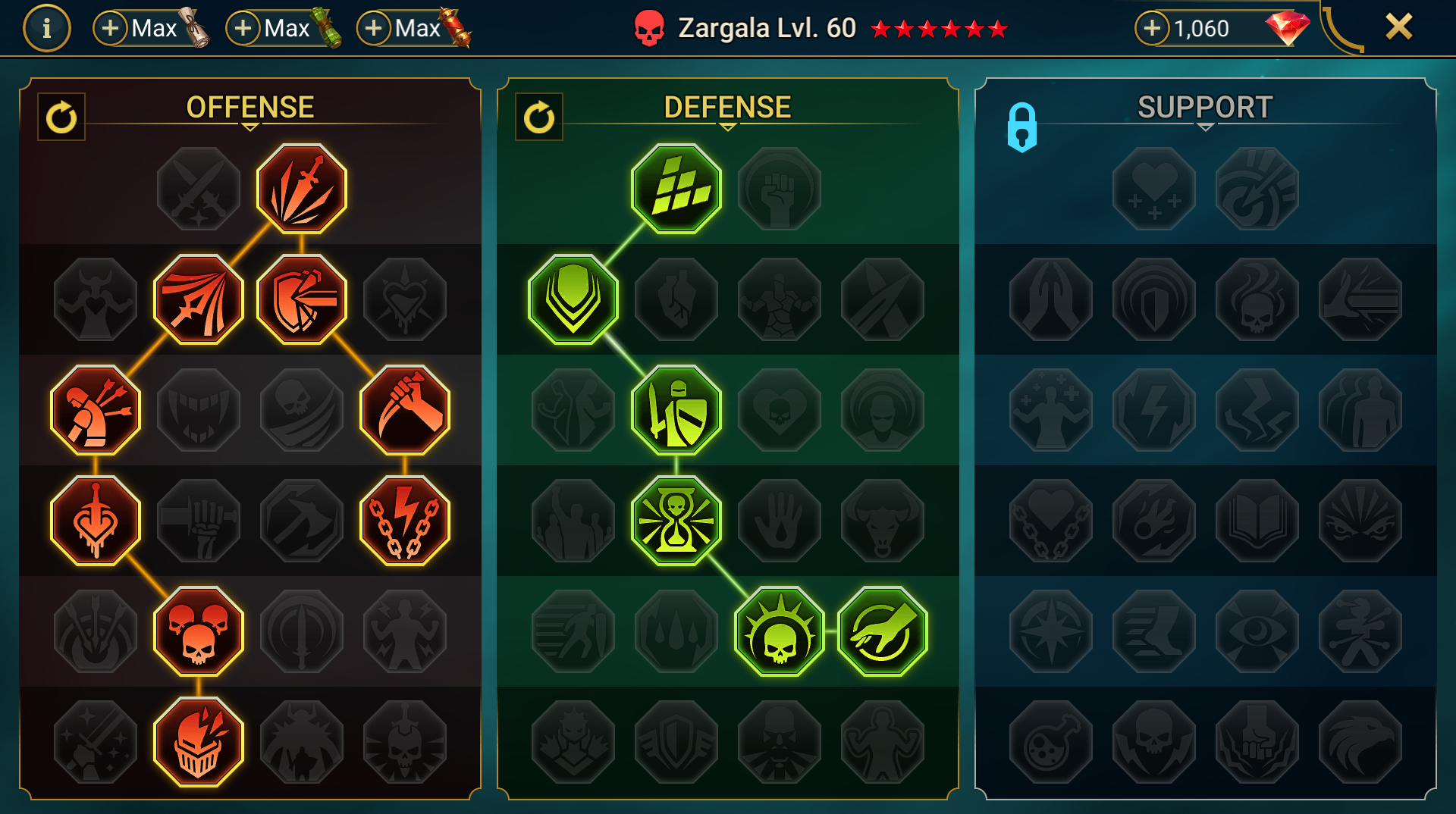 If you're building Zargala as a nuker, focus on the Offense Mastery Tree, building towards the Tier 6 Mastery Helmsmasher. Along the way, you'll want to get other Masteries such as Deadly Precision and Keen Strike for the extra Critical Damage and Critical Rate. It's also worth picking up Ruthless Ambush and Kill Streak to deal more damage when attacking enemies. Finally, grab Helmsmasher to give Zargala a 50% chance to ignore 25% of her enemies' defenses.
However, if you're building Zargala as a debuffer, get stuck into the Support Mastery Tree. Start with Pinpoint Accuracy and Charged Focus for additional Accuracy when Zargala has no skills on cooldown – very helpful when trying to land Decrease Defense debuffs with her third skill, Crack Armor. The Tier 5 Mastery Sniper is also a great shout for landing more debuffs, and then be sure to grab the Tier 6 Mastery Eagle-Eye for the biggest increase to Accuracy that a Mastery can offer.
GEAR
Both of these builds require slightly different Gear in order to make them truly effective for Zargala in RAID: Shadow Legends.
The nuker build will require high amounts of Critical Damage and Attack to really maximize the amount of damage dealt out by Zargala. Alongside both of these, 100% Critical Rate is a must. If you're building high Critical Damage, you're going to want to be landing critical hits.
As a debuffer, you'll also want to build that Accuracy stat nice and high in order to combat any opponent's Resistance stat. Zargala will also need Speed and HP to make sure that she can stay alive, land those debuffs, and get back to her turn quickly to keep those debuffs up.
In terms of specific Artifact Sets, each build will again require something a little different to maximize its effectiveness. For the nuker build, you'll want to make sure Zargala is equipped with a combination of Savage, Cruel, and Critical Damage. All of these Sets will increase Zargala's damage output, and the Savage Set in particular will allow her to ignore a hefty chunk of your enemies' defense. For the debuffer build, however, some key Artifact Sets to consider include Speed, Accuracy, and Perception. All three of these will increase Zargala's effectiveness at either cycling back through her skills or landing those all-important debuffs.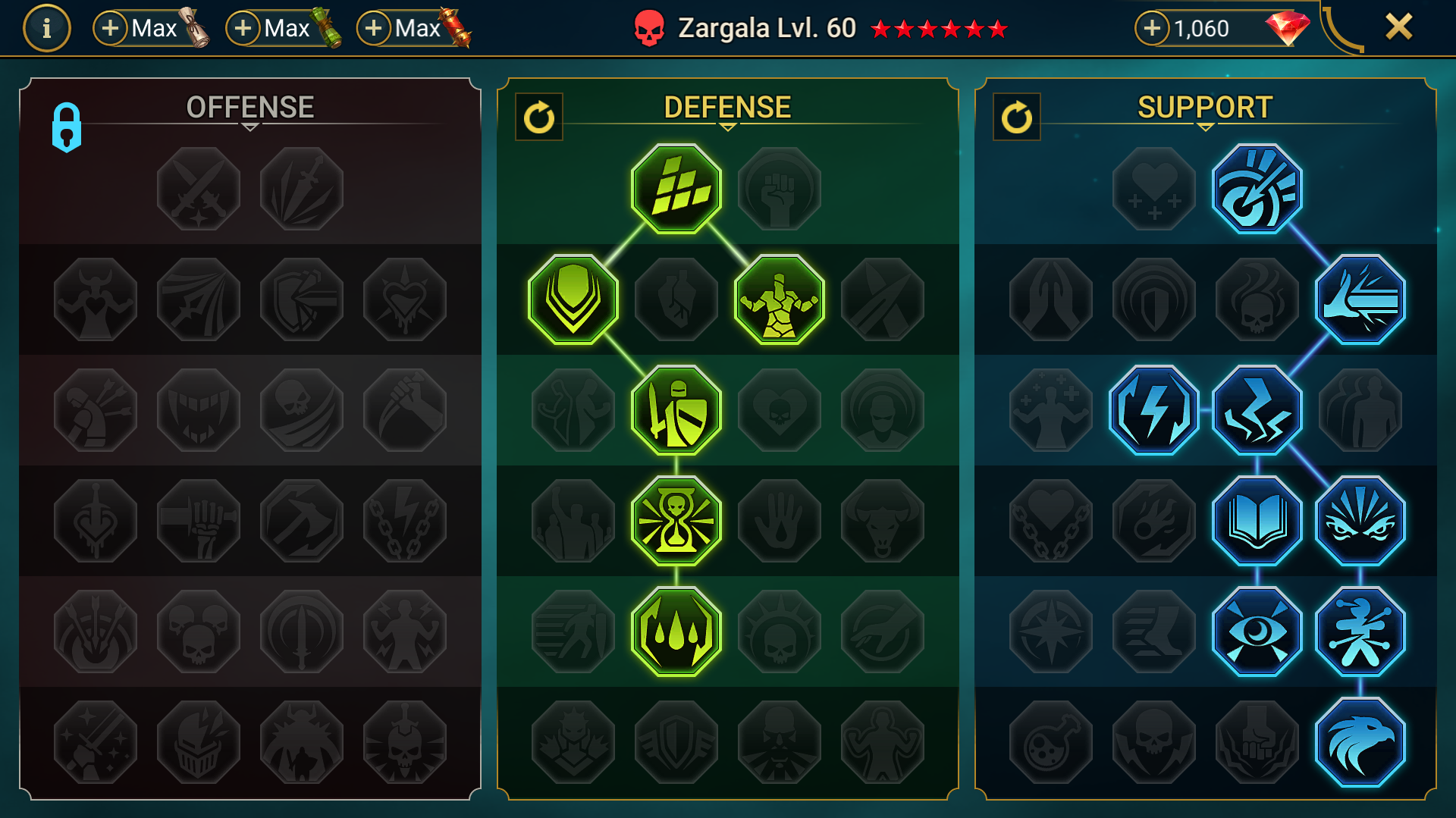 BLESSINGS
As an Epic Champion, Zargala can access two tiers of Blessings, and there are some great options for her. Cruelty will allow Zargala to decrease the defenses of her opponents with every hit, which is very helpful for her triple-hitting Crack Armor skill. Another choice would be Crushing Rend, which allows Zargala to further ignore her opponents' defenses.
ZARGALA TACTICS
As mentioned previously, Zargala can fulfill one of two roles in any team: nuker or debuffer. If you have the Gear, you could build a hybrid version of both and watch as she both sets up the opposition and knocks them down. However, for most players, you'll get the most out of her by building her in one of those two ways specifically. There are other Champions who can do both of these roles better as you summon more Legendary and Mythical Champions but, as an Epic Champion, Zargala is one of the best for most early and mid-game players.
DUNGEONS
Zargala is an outstanding pick for any of the Dungeons, able to effectively clear waves of enemies if you can get from Crack Armor into a single-target nuke with Devastate, and activate Crack Armor again. Not only is the damage output great for an Epic Champion, but Zargala also places some of the most important debuffs in the game in the form of Decrease Defense and Weaken.
DOOM TOWER
As she's a powerhouse of damage and debuffing in the Dungeons, it's much the same for Zargala in the Doom Tower. She continues to bring excellent damage numbers and valuable debuffs, but she's also a key Champion to be used in specific Secret Rooms, where entry requirements are limited. As an Epic Force Champion, she can slot seamlessly into several Secret Room teams, really helping you get those Fragments.
FACTION WARS
Finally, for Faction Wars, Zargala continues to prove her worth against waves of enemies. It's largely the same as above – she's incredible for both dealing damage and landing important debuffs to help out other damage dealers.
ZARGALA KEY INFO
STRENGTHS
WEAKNESSES

Can land very important debuffs like Decrease Defense and Weaken
Excellent damage dealer, especially with a triple-hit that can be auto-activated by killing a target with Devastate
Relevant from early game to late game

Not much build variety – either a damage dealer or a debuffer
Hard to build an impactful hybrid of both – she tends to do one or the other at a time (but very well)
Will be outclassed by other Legendaries and Mythicals over time
| | |
| --- | --- |
| FACTION | Orcs |
| RARITY | Epic |
| TYPE | Attack |
| AFFINITY | Force |
| HOW TO UNLOCK | Ancient Shards, Primal Shards, Sacred Shards, Summon Pool Events |
MAX STATS
| | |
| --- | --- |
| HP | 16,680 |
| ATTACK | 1,398 |
| DEFENSE | 793 |
| SPEED | 103 |
| CRITICAL RATE | 15% |
| CRITICAL DAMAGE | 60% |
| DEBUFF RESISTANCE | 30 |
| DEBUFF ACCURACY | 0 |
GET STARTED WITH ZARGALA TODAY
Ready to crush your opponents? Play RAID: Shadow Legends for free now!